Halmar International is BACK FOR 2021 and teaming up with fans to make an even bigger difference in the fight against hunger!
Halmar International will contribute $5,000 to fighting hunger for every top 10 finish and $10,000 for every win for the #52 NASCAR Truck Team this season. We will also match donations from our fans and sponsors up to $100,000. Our goal is to increase awareness of hunger and to raise $200,000 for food banks. Any individual donating $100 or more will get a Limited Edition T-shirt from Keen Klothing.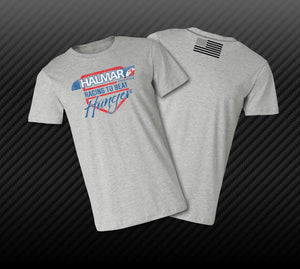 Free Shirt with each donation of $100.00 or more!
For each donation of $100.00 or more, Halmar will match your donation AND you will recieve a Halmar Racing to Beat Hunger T-shirt!  Just email your size, order confirmation # and address you would like the shirt shipped to partnerships@halmarfriesenracing.com after checkout. (allow 2-4 weeks for delivery)
Come along as Halmar International's Racing to Beat Hunger donates 16 tons of food to those in need.